We love the trend where people make new copies of old photos. With a few "Then vs. Now" pictures, you can see so many people's stories come to life right in front of your eyes.
Check out some of the most-read posts on the r/PastAndPresentPics community by scrolling down. The stories these pictures tell are sure to enthral you—they're full of sweet memories and strong emotions.
#1 Real Friendship

#2 Me In My Parents Backyard Less Than A Year After We Moved In And Me Almost 30 Years

#3 So We Recreated A Photo(Me On Top)

#4 Truly Man's Best Friend!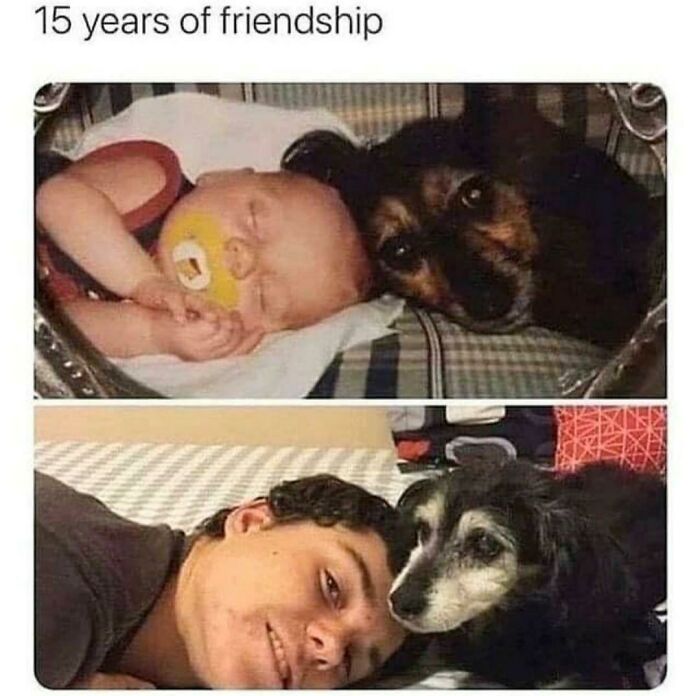 #5 Me And My Siblings Recreated This For My Parents As A Gift For Their 50th Anniversary. 1985-2019
#6 Phew! That Was A Long Boat Ride! ?

#7 Same Drama

#8 My Wife And I In 1973 And In 2019. I'd Just Turned 16 In The First One, She Was A Month Away From 16. It Was The First Pic Of Us Together, Taken In A Mall Photobooth
#9 We Recreated A Childhood Photo… From Blue's Clues Birthday Party To 20 Years Later At Thanksgiving!

#10 Happy Father's Day

#11 Giving My Boys A Ride / And My Boys Giving Me A Ride

#12 My Daughter And I Swinging Thru Time
#13 LEGO

#14 Still Friends 20 Years Later

#15 My Mom And Her Siblings, 1971 And 2023

#16 My Sisters And I Recreated A Photo At The Same Beach In Hawaii (1991-2022)

#17 My Grandfather With His Mini, And Me With Mine

#18 My Parents, Still Tired

#19 Throwback Thursday, 1991 -> 2021, Back At The House I Grew Up In (Queens, NY)

#20 My Pop And His Mama!